If you are planning to visit martin county Florida, please remember our long list of no noes – no theme parks, no high-rises, no crowds, no parking meters, no lines, no hurrying. Surprisingly, this unspoiled coastal hideaway is located just 30 minutes drive north of Palm Beach International Airport, small distance but a big change of pace. The environment here is preserved in just about every way imaginable, from the pristine beaches to picturesque downtown's to premier golf courses. The landscape is uncluttered and unmarred by high-rise buildings, thanks to a very Martin-like four story building cap. Relaxing in this unhurried, uncrowded tropical paradise just sort of comes naturally.
Clean, uncrowded beaches stretch for miles offering access to the Blue Atlantic waters warmed by the nearby Gulf Stream. Many beach parks have full facilities and lifeguards, and all have free parking. The most famous is Bathtub Beach where a reef which is a hundred feet from shore creates a shallow Lagoon. This reef and other natural and man-made reefs create an enchanting playground for underwater divers.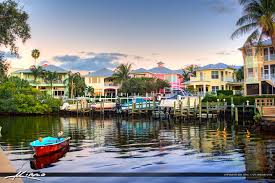 For over a century, Martin County's commerce and recreation have thrived along its 150 miles of waterways. Voted one of the most boater friendly communities found anywhere. There are dozens of public boat ramps, charters, and full-service marinas to serve visitors. Offshore fishing here is a world-renowned legacy and that's no empty boast. Sometimes, the smallest anglers bring home the biggest catch. As one of the most sought-after game-fishing grounds in North America, this town earned the title of the sailfish capital of the world.
Fishing from a boat bridge or the shoreline, you can land one of more than 600 native species. The mammoth Lake Okeechobee on the western border is a Mecca for big bass fishing. If you prefer the lure of a golf course, you can tee up at a different designer course every day of your stay and still not play them all.
Cultural heritage is one of Martin County's greatest treasures – at attractions like the Elliot museum showcasing Americana, the House of Refuge built in 1875 as a sanctuary for shipwrecked sailors, Heritage Museum in the century-old steward feed store, the old courthouse now a shining cultural center, and the restored lyric theater bringing quality entertainment to downtown Stuart for 80 years.
Dozens of parks and wildlife preserves invite the public to enjoy hiking, biking, cycling, and other recreational pursuits like birding at the six official Florida birding trail sites. Watersports come in all shapes and sizes. Near perfect conditions for learning to sail are found on the mile-wide Intracoastal Waterway at the US Sailing Center in Jensen beach, one of only two facilities in the country sanctioned for training us athletes in Olympic sailing. Florida Oceanographic Coastal Center on Hutchinson Island is dedicated to protecting and preserving Florida's delicate ecosystems. Experience the eco boat tours where you'll meet some of Martin County's most celebrated residents.
Jupiter Island, perhaps the wealthiest ZIP code in America rewards visitors with blowing Rocks Park where geysers erupt as the sea bursts through natural limestone and where the thousand acre hopes sound National Wildlife Refuge hosts its famous sea turtle nesting tours. Martin County lures its share of the rich and famous just enough to give rise to sophisticated dining and shopping. Two dozen golf courses, many designed by legends of the game and a general aviation airport where the annual air show is staged.
Leisure visitors will easily find accommodations to suit every taste from an oceanfront resort or luxury condominiums on Hutchinson Island to marina hotels where you can dock your boat right at your door. Riverfront cottages, small Inns, and intimate bed and breakfasts throughout the county lend charm and authenticity to your lodging selection.
Whether you are in love with fishing or golf, history or nature, or just with each other, visit Martin County to enjoy change of pace and rediscover how to fall in love with Florida all over again.